(Updated on 6th July, 2015)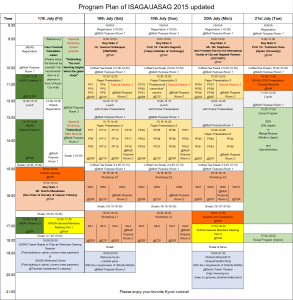 If you click, you can see the bigger figure.
<<Updated on 22nd Oct, 2015>>
Proceedings of the Conference (FINAL) and handouts of keynotes and some oral presenters are available here. If you cannot preview, please download the file.
From Dropbox
From Google Drive
ISBN 978-4-902590-44-9
*The password to open was sent via email to those who paid the participation fee.
If you paid but did not get the email, please contact us: isaga-jasag2015@jasag.org

Information on Post-Proceedings publication:
Please click here to get the information.
Detail information on events during the conference:
Information of events during the conference can be referred to from here.
Detail information on Keynote and Special Session are available below:
Detail schedule of workshops (Game Session) is available here.
Detail schedule of Oral Presentations is available here.
List of Poster Presentation is available here.
(Reference) Gion Festival
As in the morning of the first day of the conference is one of the days of Gion Festival. For its introduction and schedule, pleaese refer to: http://www.kyotoguide.com/ver2/thismonth/gionmatsuri12.html. If you have time, we recommend that you observe the festival, one of the most famous festivals in Japan. Our recommendation place to observe is in front of Kyoto City Hall, which has open space and can accommodate many tourists.
ISAGA Opening (7/17) (15:00-15:30)
15:00-  Kickoff address & MC,  Dr. KANEGAE,  Representative of Organizing Committee
15:05-  Welcome message from Dr. DEGUCHI, Representative of JASAG
15:10-  Acknowledgement remarks from Dr. KRIZ, Representative of ISAGA
15:15-  Congratulatory speech by guests of honor, Mr. ERIKAWA , Founder of FOST
—-Information on keynotes & special sessions and Party—-
Keynote  
   Keynote 1 (7/17) (15:30-16:30)
Mr. Koichi Masukawa
(Chair of Society of Games' History)
Theme: The Origin of Board Game and Ancient Gaming Boards
   Keynote 2 (7/18) (9:00-10:00)
Dr. German Velasquez
(Chief of the Advocacy and Communications Section, Head of the Making Cities Resilient Campaign, United Nations International Strategies for Disaster Reduction)
Title: Building a Global Disaster Resilience Model
   Keynote 3 (7/19) (9:00-10:00)
Prof. Dr. Hiroshi Deguchi
(Interdisciplinary Graduate School of Science and Engineering, Tokyo Institute of Technology)
Theme: Hybrid Simulation and Gaming in the Network Society (Presentation title to be announced later)
   Keynote 4 (7/20) (9:00-10:00)
Mr. Ric Stephens
(the President-Elect for the International Society of City and Regional Planners (ISOCARP))
Theme: Urban Planning games and Simulations: From Board Games to Artificial Environments

   Keynote 5 (7/21) (9:00-10:00)
Prof. Dr. Yoshinori Hara
(Graduate School of Management, Kyoto University)
Theme: Sustainability and Scalability in Japanese Creative Services
Special Session
   Special Session 1 (7/18) (10:30-12:00)
Prof. Dr. Willy Kriz
(Department of Management and Business Administration, University of Applied Science Vorarlberg)
Title: Time Capsule of Gaming Simulation: Back to the Future of ISAGA
   AND
Floor Discussion
   Special Session 2 (7/19) (10:30-12:00)
Special Lecture on "Hybrid Simulation & Gaming Special Session"
Prof. Dr. Sachihiko Harashina
(Faculty of Policy Informatics, Chiba University of Commerce)
Theme: Environmental assessment simulation AND consensus building and games (Session title to be announced later)
   AND
Panel Discussion by JASAG
   Special Session 3 (7/20) (10:30-12:00)
Prof. Dr. Paola Rizzi
(Faculty of Architecture, University of Sassari)
Title: Officina of Gaming Simulation: Testing and Tasting your Design
   AND
Floor Discussion
+Special Discussant
Mr. Ric Stephens
(the President-Elect for the International Society of City and Regional Planners (ISOCARP))
Special Workshop (7/17)
On 17th July, Special Workshop is going to be held by Prof. Dr.'s Tipton, Leigh, Kriz and Crookall. If you would like to participate, please come to the venue at 9am. You do not need to register in advance nor pay fee.
Debriefing: The real learning begins when the game stops
There is a tendency among both designers and facilitators to become fixed, perhaps even fixated, on our simulations and games. Making and using systems that, at least to us as experts, clearly demonstrate some concept or skill in action is exciting. But, what about for the students? What do they, as non-experts, get out of their experience? How do we as teachers know what they got from the experience? What if what they got is not what we wanted them to learn? What do we do then? Students need to compare the simplified model of the simulation/game back to reality in order to transfer the competencies gained to the real situation. For real learning to happen, we must debrief and we need to do it well. This workshop is offered by Prof.Dr.'s Tipton, Leigh,  Kriz and Crookall.  These instructors will explain the debriefing process more deeply and expose participants to a variety of methods used for debriefing.  This five-hour workshop will help the participants gain insight, confidence, and skill in designing materials/procedures for debriefing and in conducting debriefing sessions that help students process their experiences into real learning.
Postdoctoral Consortium Section (7/19)
On 19th July, a special section is going to be held by Dr. Titton. If you would like to participate, please come to the venue (Room 210) at 10:30 (it is held in a parallel session period). You do not need to register in advance nor pay fee.
The Post-Doctoral Consortium provides an opportunity for post-doctoral fellows to explore and develop their research interests in an interdisciplinary workshop, under the guidance of a panel of distinguished researchers. Fellows are invited when feel they would benefit from this kind of feedback on their research work to apply for this unique opportunity to share their work with other doctors in a similar field as well as senior researchers in the field. The strongest candidates will be those who have a clear topic and research approach, and can make some progress by sharing the research process, but who are not so far along that they can no longer make changes. In addition others in the audience are normally invited to collaborate or even join the research when feasible.